Pocono Juggle/Circus Arts Fest 2019
BIG SHOW 2019 Special Guests and Performers... tickets sold at the gym Fri. & Sat.
Join us for a weekend of pure fun!
Where jugglers and circus arts enthusiasts come to...

* practice their craft
* share their craft
* rekindle friendships
* build new friendships

March 1, 2, and 3 of 2019

Michael is an international award-winning juggler who has toured the world for the past ten years with his incredible performances. He is dedicated to providing high quality entertainment​ hand-in-hand with his high energy performance. We are honored to have Michael return to Pocono Juggle and Circus Arts Fest as our 2019 Master of Ceremonies.
Austin is one of those rare second generation jugglers, having learned from his dad at the age of 7. Now, at 193cm tall with a wingspan of 198cm, he's hard to miss on Burlington, Vermont's iconic Church Street where he frequently can be found busking.
2018 was a landmark year, as he helped form the Queen City Circus Collective to unite the jugglers, acrobats, and other circus friends in northern Vermont. He brought home a silver metal in the IJA Numbers Competitions. He performed at the Limestone City Juggling festival in Kingston, Ontario. And, he started drumming for Burlington's newest anti-capitalism folk punk band, Marxist Jargon. Originally from Palmerton, PA, we welcome Austin to our stage!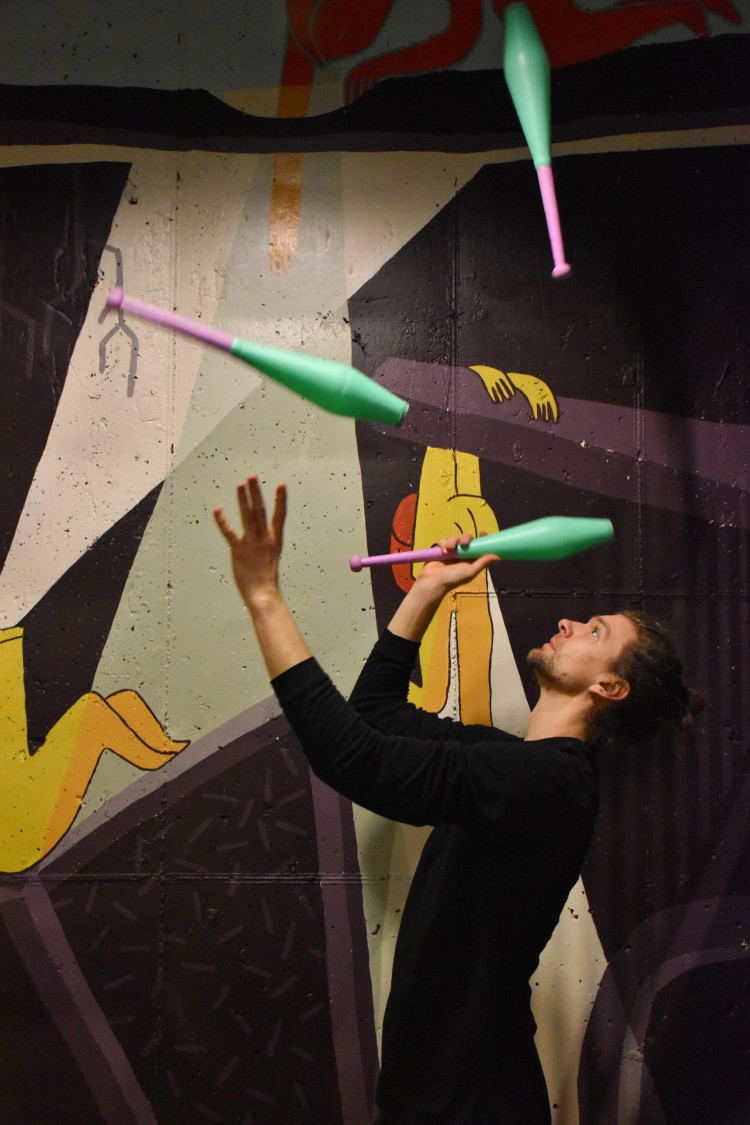 Etienne McGinley and Leah Orleans met at the San Francisco Circus Center where they both discovered a passion for partner acrobatics. With backgrounds in theater and clowning they created a new kind of show – combining their love of comedy with their zeal for circus. Acrobatrix was born!

They began performing at San Francisco's famous Fisherman's Wharf and audiences responded to their electric chemistry. Acrobatrix's ability to make audiences laugh out loud one moment and gasp in awe the next; success quickly followed as they were invited to perform at festivals around the world.

Between tours the pair trained with Cirque-du-Soleil in Montreal and wrote new routines under the guidance of Penn and Teller's director in Las Vegas. The result was an original show that earned them standing ovations on cruise ships, colleges and festivals.

Etienne and Leah continue to challenge themselves by working on new skills, writing fresh jokes and finding joy in the most unlikely places. It is a honor to have Etienne and Leah grace the Pocono stage!​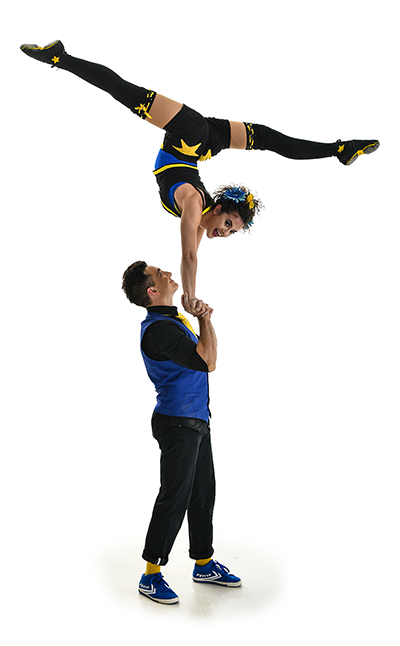 Matt Hall began his juggling career at the tender age of age 27, after he purchased Charlie Dancey's Encyclopaedia of Ball Juggling and vowed to learn every trick in the book.

Known as the "Juggle Sensei", he has garnered several awards, including the International Jugglers' Association Individuals Silver medal, the IJA Peoples' Choice Award, and the 2005 IJA Overall Prop Champion. He has performed, taught juggling workshops, and emceed in places like Scotland, England, Australia, Israel, Canada, The Netherlands, and Denmark. In 2008, he performed at and hosted the Final Open Stage at the European Juggling Convention in Karlsruhe, Germany—the largest juggling event in history. Matt has performed and emceed at the 2009 Montreal Juggling Festival, the 2009 Melbourne Juggling Convention, the 2011 Turbo Juggling Festival in Quebec, the 2011 British Juggling Convention (an extremely rare third invitation), the 18th Israeli Juggling Convention (an equally rare second invitation), the Barullo Circus & Juggling Festival in Guadalajara, Mexico, and the 2012 Auckland Circus Convention. Most recently, he headlined the 2015 Newcastle Juggling Festival in Australia and paid a second and third visit to the Seattle Moisture Festival as a performer and emcee.
​
Matt still considers himself a hobby juggler, given that he spends most of his time and effort working as a high school Japanese language teacher and student activities director in Palo Alto, CA. He credits his undergraduate education at Notre Dame as the main inspiration for becoming a teacher, and he is thankful for his graduate education at Stanford for helping him become the teacher he is today.

​His philosophy of juggling is the same as his philosophy of public high school teaching--"I'm in it for the money." Seriously though, Matt thinks of himself as a regular guy who keeps ending up in amazing situations. Over the years, he has been used as the model for the Kinetic Juggling Superstar T-Shirt line, received an invitation to go to Taiwan to judge and instruct at its national diabolo championships, served as a consultant to The Passing Zone in designing a new cigar box routine, gone on tour with Cirque du Soleil's Quidam show as a paid instructor, and was awarded the 2011 IJA Bobby May Award.

​For videos, pictures, and resume, please visit Matt's Instagram Account (@jugglesensei), his Facebook page at www.facebook.com/jugglesensei or his website at: http://jugglesensei.net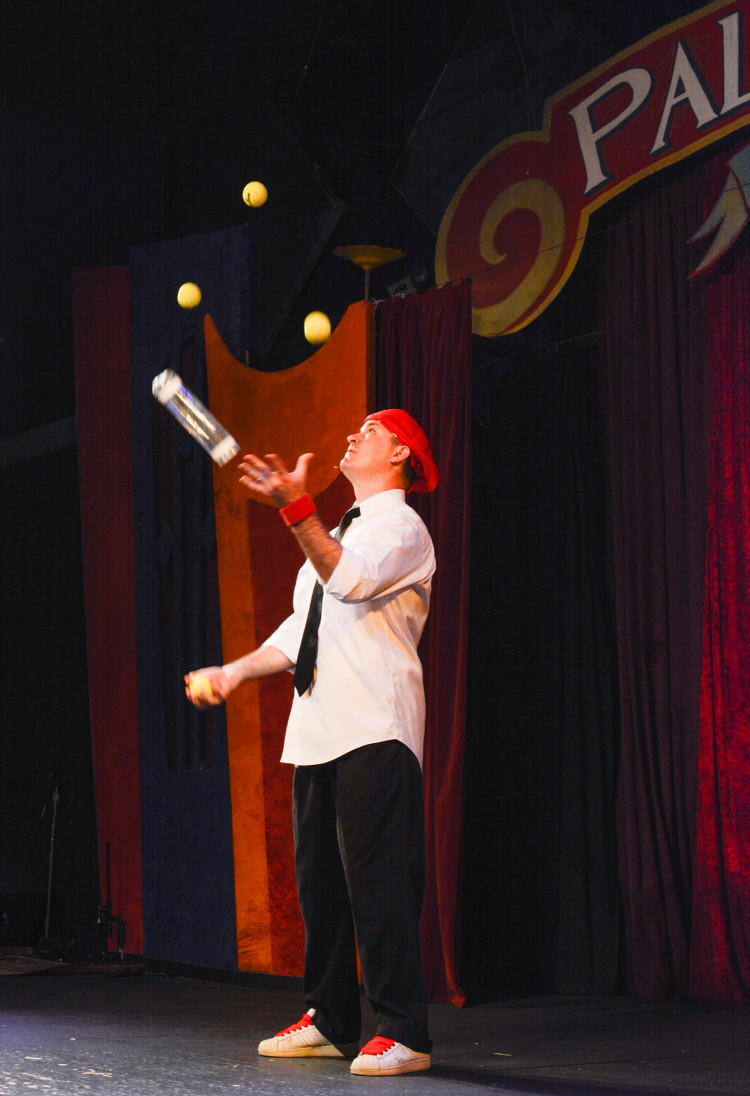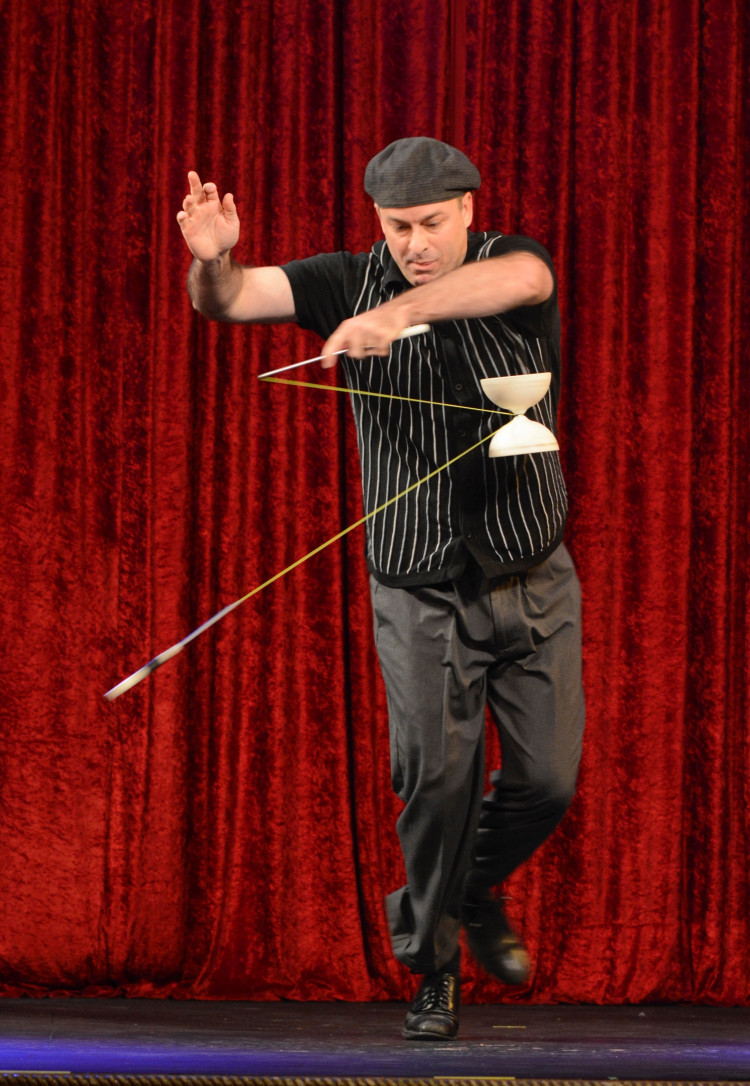 Christian started juggling at six years old and thrives on the thoughtful movement that keeps objects aloft and lively ideas taken down for the record. He grew up in Maryland, but paid frequent visits to his mom's native New York City. Christian's childhood trips to the Big Apple taught him how to tear into a fresh loaf of bread, how to put on a show and how to stand on the subway. He also saw how people -- in an unfathomable blend of attitudes, appearances and talents -- breathe life into a city. Christian graduated from the University of Maryland in 2010 with a Bachelor's degree in journalism, after which he immediately started working as a chef. Aboard the Fojol Bros. Ethiopian food truck, in the kitchen at Restaurant Nora, and at the helm of Society Fair's pastry program, Christian honed his palate, creativity and adaptability, skills that continue to serve him well as a full-time circus arts performer, producer and educator. Christian is a co-founder and editor of The Circus District, an online hub of circus arts in the DMV, and continues to perform and teach in DC and around the country.
Photo (L) by Dani Pierce Steuber
​for Street Light Circus. Photo (R)
​by Rich Riggins
Paris...The Hip Hop Juggler
Paris, given the nickname "The Hip Hop Juggler" by Al Roker himself, has been dazzling audiences for over a decade. In addition to bringing his talents to The Today Show, Sesame Street, and The White House, Paris has also gained critical acclaim for his juggling instruction, teaching at hundreds of conventions, corporations, and training world famous illusionist David Blaine for his "Electrified" stunt that was performed live in New York City. You can even catch him juggling in the 2018 global hit music video "No Me Acuerdo" with Latin music sensations Thalia and Natti Natasha. When he's not performing, he's usually online, artificially inflating the monthly visitor count on his own website: www.hiphopjuggler.com.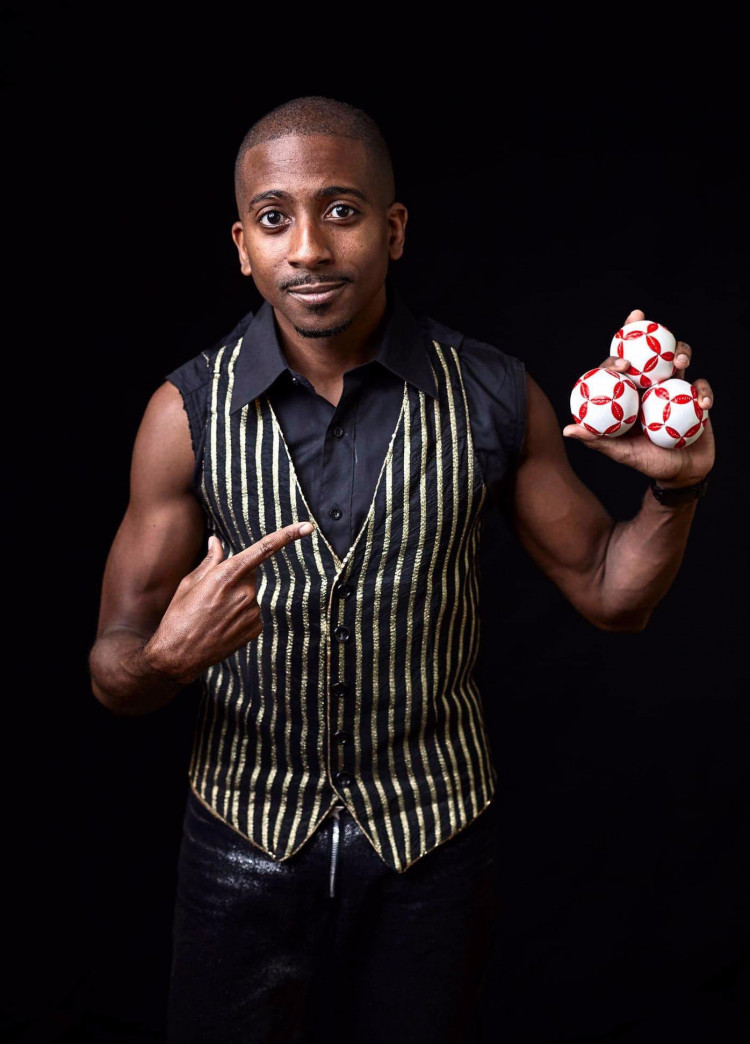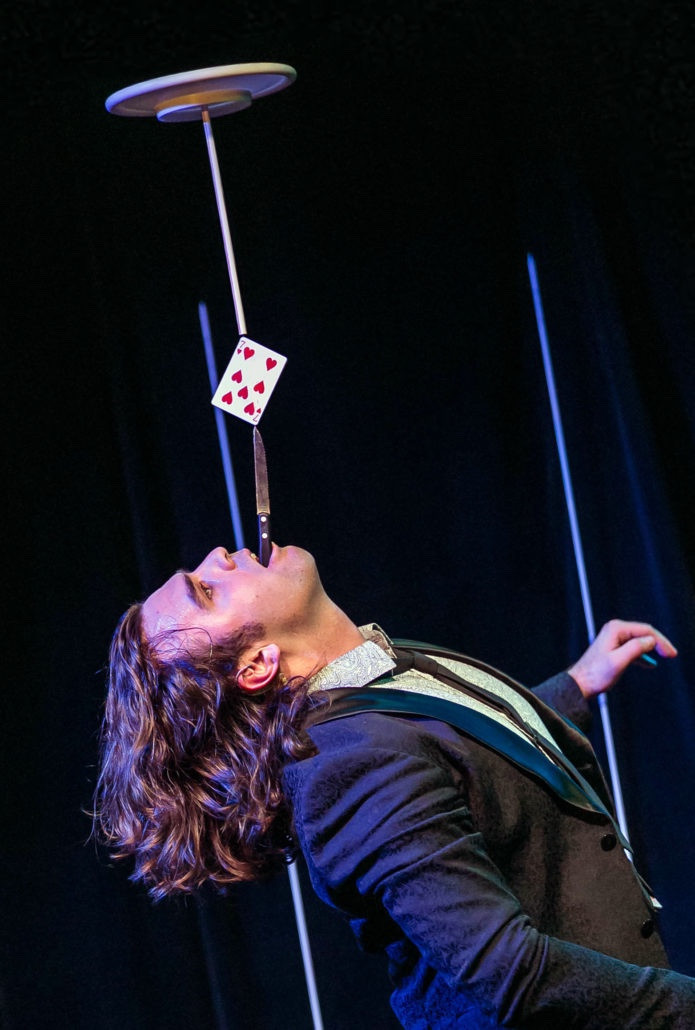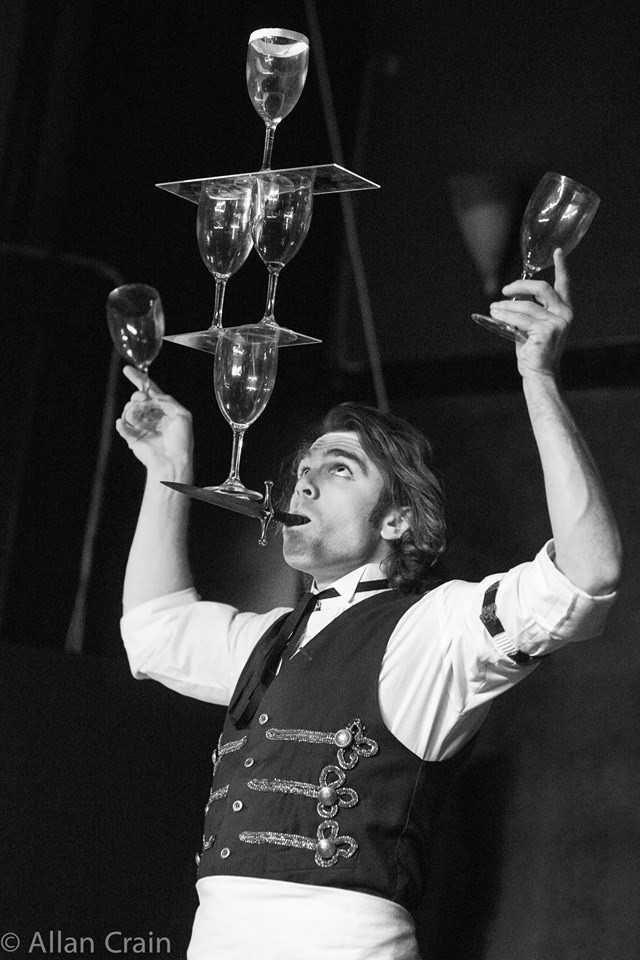 With something for everyone, this show has a variety of stunts – from displays of virtuosic skill to startling feats of danger and daring! You'll be on the edge of your seat when Thom balances a half dozen wine glasses on the edge of a knife. The audience will roll in the aisles as he dives through a bicycle rim lined with rat traps. They will delight as they help out, themselves – leaving the stage a hero. Clever, classy, and a juggling virtuoso - when Penelope Cruz saw Thom perform in 2017, she marveled "Wonderful! You make everything look so easy!"
​​Thom tailors his show for every audience. He has toured the world with his performances, shared the stage with the Rockettes at the Radio City Music Hall, and juggled for thousands in Cirque du Soleil's blue and gold circus tent coming to us from his recent run in London with Totem. It's all been practice for the day he gets to perform for you! We are honored to welcome Thom Wall to the Pocono stage!
Honors and Awards include:
> 40 under 40 - 2018
​> 1st at 3 Ring Open - IJA 2017​​​
> 3rd at 3 Ball Open - IJA 2017
> Medalla "Crotalus Scholaris" - La Univ.
​Mesoamericana, Mexico, 2015
> "People's Choice" Riga International
​Circus Festival in Riga, Latvia 2015​
> IJA Ind. Championship Bronze 2014
> "Best of the Fringe" Kansas City 2014
>Judy Finelli Award in Arcata, CA 2013​​​
> IJA Ind. Championship Silver 2012​
> Top 40 Jugglers of the Year​​​​...2010,
​2011, 2012, 2014, 2015, 2016, 2017,
​and 2018
Kelsey Strauch is a one-woman show that plays well with others. She is an acrobatic movement artist specializing in object manipulation. Kelsey has performed on stages all across North America and been featured in national magazines, film and television. She is a certified yoga instructor and avid acrobatic Yogi. Along with a BFA in Painting from the University of Oregon and completing the Professional track program at the New England Center for Circus Arts, Kelsey has trained and apprenticed with several (big) top coaches and clowns. She currently lives in New York City studying acting for film and television. Kelsey will be juggling with Gandini Juggling in The Metropolitan Opera's production of "Akhnaten" by Philip Glass coming up this Nov/Dec 2019! We are proud to welcome Kelsey to the Pocono stage!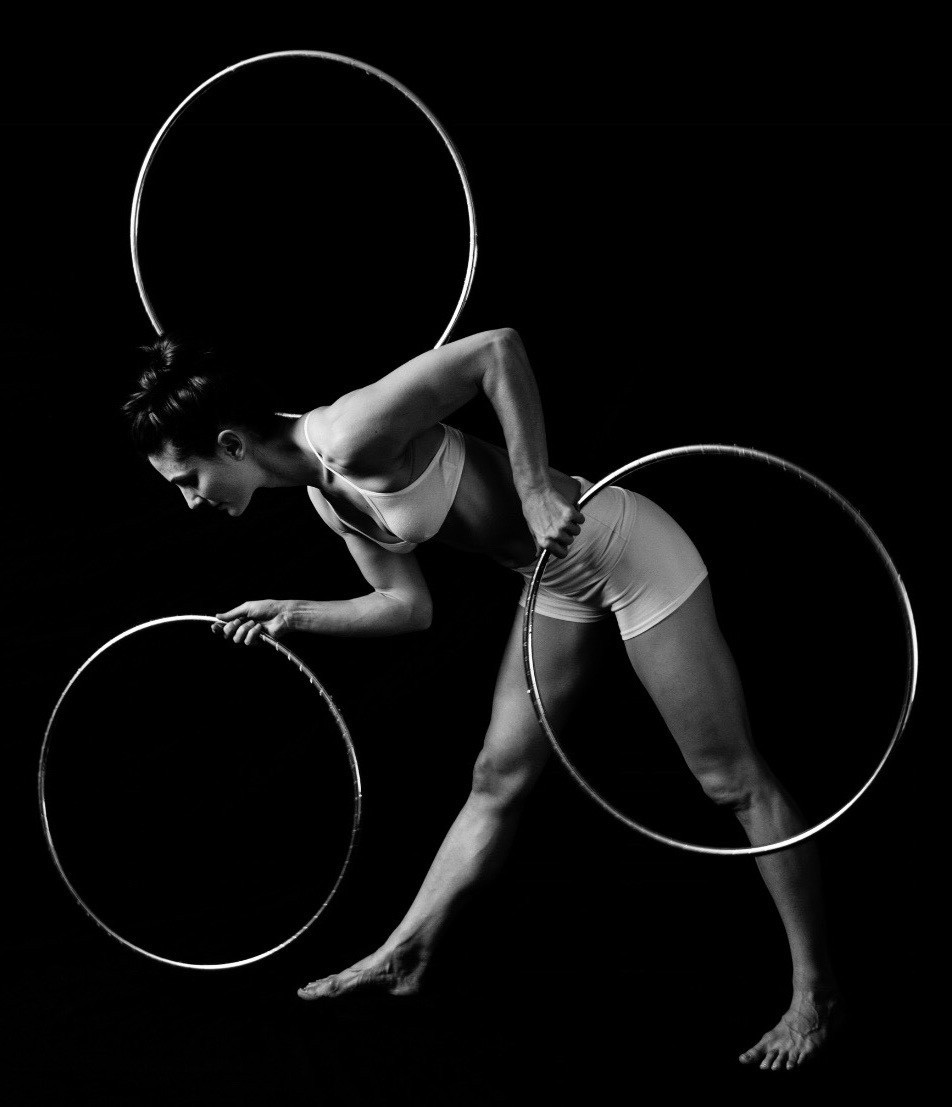 Bennett is an entertainer and 9th grader who lives in New York City. Bennett has many awards and honors in juggling including in 2017, the Gold Medal in the International Jugglers Association (IJA) Juniors Stage Championships (which he is the 3rd youngest person ever to win) and Bronze in the same contest in 2016, when he also won the XJuggling Medal in the 4-5 Rings Category. In 2017, Bennett received a "First of May" a first of award from the Bindlestiff Family Cirkus to create a full length one-man show -- Seasons -- which was performed for the first time in 2018. Bennett has won best trick contests at a number of festivals but is especially proud to be a two-time coveted Smedley award winner at Pocono. Bennett is a highly decorated competitor in joggling (competitive running races while juggling) and is among the youngest people ever to complete the 7 Ball 100 Meter Race for which he won a gold medal in 2017.